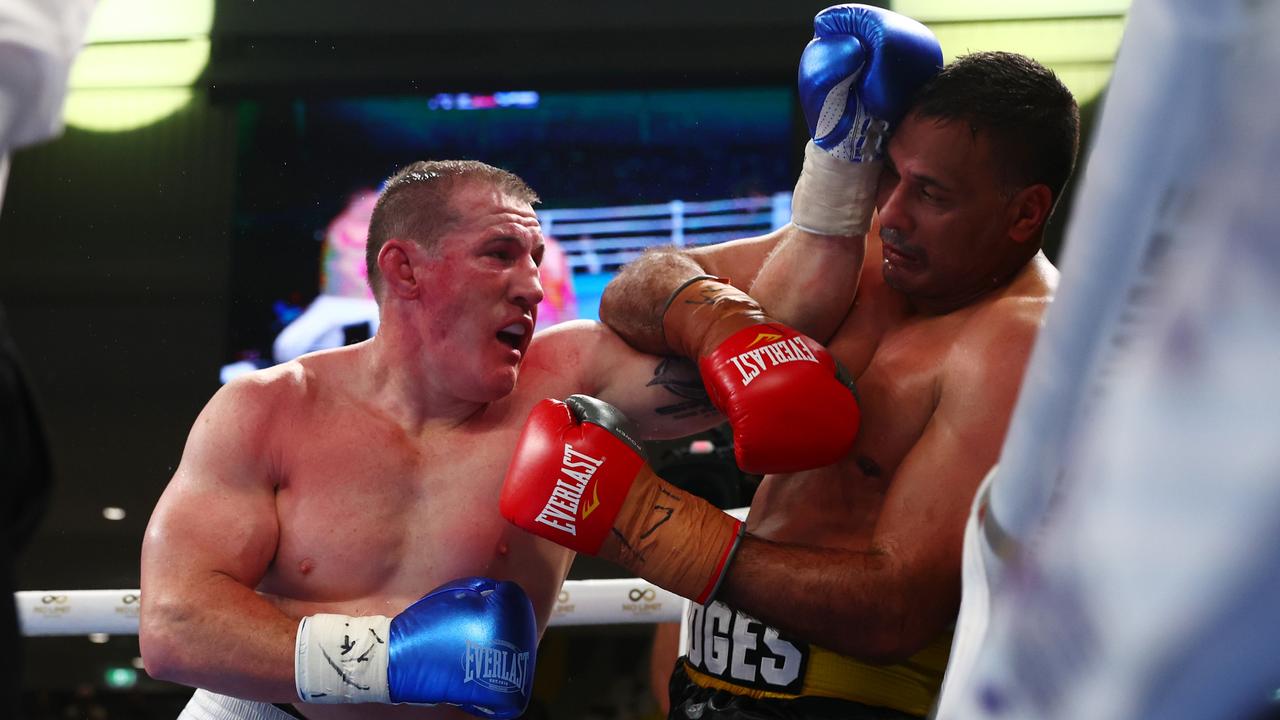 Paul Gallen has promised Justin Hodges a rematch after scoring a controversial victory over his Queensland rival
Re-live all the action below.
MAIN EVENT: PAUL GALLEN DEF. JUSTIN HODGES VIA TKO
ROUND 3
It's over! Gallen stops Hodges as the referee steps in. No Limit boss Matty Rose can be scene screaming at the referee. Hodges was never the same after that dog shot in the previous round. Hodges is fuming but the result is final.
ROUND 2
Paul Gallen is down! Hoges drops his rival with a beautiful left hand. Gallen does well to survive. OH MY WORD! The referee has lost complete control as Gallen pushes Hodges over the ropes and lands a huge shot. Hodges is down but the ref trells him to get up. Wild stuff as Gallen explodes.
ROUND 1
Soldier Boi – I don't know why that's fitting walkout music for Hodgo but it is. Gal out to that weird song that is in every Year 12 end-of-season rugby highlight package. OK, here we go! Gal's head is busted up. Gal looking for the early finish. OH! Hodges rocks Gallen with a relentless combination. Another right hand lands on the left-side of Gallen's noggin. Gallen warned for rabbit punching. Great round. That's a draw 10-10 … I'm sitting on the fence.
9.25PM: JOE GOODALL DEF ARSENE FOSSO VIA TKO
The final fight before the main event … could be a quick one. Joe Goodall scores the TKO to bounce back from his devastating loss to Justis Huni.
8.55PM: LACHIE HIGGINS DEF BEN HUSSAIN VIA TKO
'Bubba' and Hussain are up. The 'Hypebeast' has been derailed by Lachie Higgins. 'Bubba' scored a second round TKO to win the IBO Oriental middleweight belt.
8.43PM: JUNIOR TAFA VS. DAVID TULILOA VIA TKO
UFC hopeful Junior Tafa has won his boxing debut. Will he win the heart of Uncle Dana?
8.18: PAUL GALLEN DEF BEN HANNANT VIA DECISION 40-37, 40, 36, 40-36
Paul Gallen kicked off his double header in style with a unanimous points victory over a brave Ben Hannant, who carried two broken ribs into their showdown at Brisbane's Nissan Arena.
There was much conjecture over which fighter would kick off proceedings against Gallen, but Hannant – not Justin Hodges – emerged first and he impressed the crowd with a wholehearted display.
Gallen was tipped to knockout Hannant but the Polar Bear bared his teeth and made the former NSW Origin skipper work hard for his unanimous points (40-37, 40-36, 40-36) victory.
Incredibly, Hannant suffered two broken ribs in a park football match a month ago and he kept the injury secret to ensure there were no excuses entering the ring against Gallen.
Gallen will be given at least a one-hour break before he returns to the ring to face Hodges, who will fancy an upset after watching Hannant take plenty of gas out of the 348-game NRL luminary.
Both men finished with some bruising, with Gallen's trainers applying ice under his left eye in the dressing room.
"Ben Hannant is one tough guy, I have played footy at the highest level with him, he is tough as nails," Gallen said.
"I came forward and he kept closing the distance, so he did really well.
"I was actually surprised by his movement.
Hannant was thrilled with his performance, made more impressive by the revelation he entered the ring with busted ribs.
"I'm not a fighter, everyone knows that, but the best way to learn is to get hit," Hannant said.
"I got an injury four weeks ago playing park footy.
"I broke two of my ribs and if Gal got me in that area, I would have been stuffed, but there's no excuses, he is a much better fighter than me.
"I just wanted to show I never quit and here I am, still standing.
"I still have a pretty face and I know I hurt Gallen, I got him with a good right and he nearly went down, but he was too good overall."
ROUND 4
Fourth and final round. Gal, perhaps unwisely, is looking for the finish here. The man wants to make a statement but it could prove detrimental for the return bout. Hannant throwing a masterful double punch. GALLEN IS CUT LATE! The New South Welshman takes out the first fight but Hodgo will be targeting that mouse under Gal's left eye. Gallen couldn't resist a jab at Hodgo after the fight: "I always said he (Hannant) was tougher than Hodges."
ROUND 3
More of the same. It's not pretty – much like how these men went about their footy! Benny Hannant is absolutely pooped. Gal not so much … but time will tell. "He's done his job for Queensland whatever happens," Ben Damon muses as the bell rings. Gallen 30-29
ROUND 2
The Polar Bear now looks like he's going extinct on his chair between rounds. The body punches he took in the first may have taken a toll. Gallen ramping up his output. Hannant on wobbly legs but he won't back down! Gal wins it comfortably 20-20
ROUND 1
Here we go! The Polar Bear looks like Kelly 'The Ghost' Pavlick at Nissen Arena! Hannant measuring Gal with his jab as two right hands creep through. Gal's plan is clear – conserve energy and pick his shots. Gal looks comfortable on the chair. Hannant 10-9
7.52PM: A FRUSTRATED GAL SPEAKS
Flanked by his son for the first time during his boxing career, a wrapped and ready Paul Gallen says he will take his frustrations out on Justin Hodges and Ben Hannant as the order of the fight remains a mystery.
"It has been frustrating," Gallen said of the fight order. "Even today I rang Matt Rose and said the media is out of the way let me know who's coming first but he still wouldn't let me know.
"I don't care, I'm ten times fitter than these guys, ten times tougher so it doesn't matter who comes out first."
Gal spotted warming up with his son. A lovely little moment.
7.45PM: TY TELFORD DEF VANLALAWMPUIA VIA TKO
Welcome back Ty Telford! The Aussie dispatches Vanlalawmpuia in the first.
7.35PM: RENOLD QUINLAN DEF. JACK BOWEN VIA KO
Renold Quinlan is back! The journeyman loves an upset, stopping Daniel Geale for a world title but this knockout win over rising star Jack Bowen may just be the best victory of his career after a recent eight-fight slide.
7.21PM: HORN'S FEARS, FIGHT ORDER
Australian boxing legend Jeff Horn believes the odds are against Paul Gallen tonight.
The former world champion identified the hour gap between bouts are likely to physically and mentally drain Gallen.
"I don't see how Gallen wins," Horn said on the Main Event coverage. "You're physically and mentally stuffed after the first fight and then you have another fresh guy jumping in."
"I'm guessing Gallen will want to get Justin Hodges out of the ring early before bringing it home against Hannant."
Ben Hannant revealed he and Hodges will both prepare to fight first but still remain in dark over the order.
7.15PM: GALLEN, HODGES ARE IN THE BUILDING
HOW GALLEN'S HISTORIC BOUTS WILL UNFOLD
After weeks of discussion, which saw Gallen threaten to walk away, the format has been confirmed.
Both fights will be four, two-minute rounds and Gallen is set to have at least an hour break in between.
Ben Hannant is expected to be the first opponent before Justin Hodges and Gallen close the card.
Earlier in the week, Gallen accused his promoter No Limit of throwing him under the bus for not telling their fighter the order.
"In general, (I'm) not feeling great about it," Gallen told news.com.au.
"My preparation is going OK, I'm definitely fit. My fight fitness and everything is fine, but I'm not happy about.
"It's a big ask — fighting two guys on one night and I still don't know who I'm fighting first and what's going on, how the fight's going to work. It's a bit of a pain in the a*** to be honest."
Adding to Gallen's frustration is the extraordinary financial incentive for Hodges and Hannant should they beat their rival.
The Queensland greats agreed terms on a rematch clause that will see the duo pocket $1 million each for a return bout with Gallen, who will have his retirement fight in December.
PRELIMS
Miles Zalewski vs. Shiva Mishra
Miles Zalewski, Harry Garside's first professional opponent, stops Mishra in the third round. Is a rematch on the cards? Jeff Fenech doesn't think so.
Jalen Tait def. Sachin Mudaliar via TKO/KO
Sachin Mudaliar stepped in for his brother on two-day's notice – he should have stayed at home after being dropped like a sack of spuds in the second round.
Ange Harries def. Angel Rushton via unanimous decision
Angel Rushton, daughter of Glenn who famously trained Jeff Horn, loses for the first time in her professional career.
SHOCK OPPONENT GAL WANTS AS FINAL FIGHT
Paul Gallen's retirement fight could be a multimillion-dollar showdown against UFC legend Rob Whittaker.
On the eve of his double header against Justin Hodges and Ben Hannant tonight in Brisbane, News Corp can reveal Gallen's promoters, No Limit Boxing, have held talks with Whittaker for a cross-combat blockbuster before Christmas this year.
Gallen has one fight left on his contract with No Limit – and the boxing promoting powerhouse wants the NRL legend to go out in a blaze of glory against Whittaker.
The Auckland-born former UFC world champion and would be a dangerous opponent for Gallen, who recently turned 41 and is wary of the batterings he copped against Justis Huni and Kris Terzievski in the past 15 months.
Whittaker beat Martin Vettori a fortnight ago in France and No Limit boss Matt Rose confirmed he has had several discussions with the 31-year-old, who was once in a development program at Cronulla, the very NRL club where Gallen won a premiership in 2016.
Rose said if Gallen disposes of Hannant and Hodges at Brisbane's Nissan Arena – as expected – he will ramp-up plans for a swansong showdown with Whittaker.
"A Hannant and Hodges fight stands in the way of a huge crossover fight between Gal and Rob Whittaker," Rose said.
"I was in France recently to watch Rob's fight and after his victory, I sat down for talks with Rob about fighting Gal.
"We've been speaking to Rob and his team for two years about this and we're now at the stage where we want to seriously advance negotiations to make this fight a reality.
"Rob says he would be keen to do it, but he's got some contractual commitments to the UFC that we need to work through.
"Size-wise there's not much of a difference. Rob walks around at about 95kg and Gal is around 100kg, so it would be a great cross-over fight and we'd love to make it happen if Gal is up for one last major fight."
Gallen would require a mammoth payday to consider fighting Whittaker given the heavy punishment he absorbed in his brave losses to Huni and Terzievski.
The biggest payday of his career was the $1.6 million bonanza he pocketed from his 10-round slugfest against Huni, more than triple the estimated $500,000 he will receive for fighting Hannant and Hodges.
Gallen admits he is ready to hang up the gloves after a remarkable 21-year professional sporting career.
"I am looking forward to it being all over," he said.
"I am at the back end now and I am sick of promoting things. I am sick of being the guy carrying the show, I'm a bit over that and I'm over the sparring.
"There's no doubt I've copped a lot. I've trained really hard over the years and I've copped some big punches.
"Physically, the toughest thing I have ever done in my NRL and boxing career was my fight against Terzievski.
"I don't know if that was my age showing, but I have never been so spent like I was that night.
"In round nine, I almost stopped him and then in round 10, I tried to get him, he was running from me and I just could not chase him, I was absolutely gone. I had nothing.
"I had never felt that tired in any other moment of my career, but maybe that was me showing my age at 41.
"I was totally f****d." 
Wife's orders: Hannant fighting Gallen for family pool
— Robert Craddock
Ben Hannant said "no'' three times to a fight with Paul Gallen before giving in to someone he had no chance of defeating … his wife.
"I kept on saying no but we are building a new house and my wife (Emma) kept saying if I took this fight we could put a pool in,'' Hannant said.
"You know what they say – happy wife, happy life – so here we go.''
That yet-to-be-constructed pool – let's call it the Paul Gallen Aquatic Centre – is set for a major workout.
Hannant is a father of eight and while the new house gets built on his Gold Coast acreage, Hannant, Emma and their eight children have squeezed into a three bedroom, one bathroom cottage at the back of their property.
Hannant is expected to fight warrior Gallen in the first of Gallen's two fights at Nissan Arena before former fellow Bronco Justin Hodges takes the 41-year-old on an hour or so later.
The night has become to boxing what the Big Bash is to cricket – an unusual spectacle which some (Hannant) rate as an entertainment event while others (Gallen) treat deadly seriously.
"I definitely think what I am doing is all about entertainment,'' Hannant said at Wednesday's weigh-in.
"I would be kidding myself – and this is the mistake I made when I fought Hodgo – if I thought I could do in four weeks what boxers take 10 to 20 years to learn. You cannot do that.
"I'm a dumb front-rower. We can absorb one or two key points, that's all. We are going to be throwing sledgehammers. All you need is one or two to connect …''
Hannant, who really should change his nickname from the Polar Bear to the Grizzly Bear if he is to be treated seriously by the boxing world, was flashing his ready smile on fight eve but this is a dangerous night.
Prize-fighter Gallen is no-one's idea of Australia's Tyson Fury but he is tough, experienced and ruthless.
It will be in his best interests to try and finish off Hannant as quickly as possible to conserve energy for Hodges.
Hannant may consider it entertainment but there's nothing entertaining about eating a leather sandwich for dinner when your kids are ringside so he must be prepared to handle some heavy treatment.
When Hodges was knocked out by Darcy Lussick he said the most chastening part of the entire night in the ring was having his son Carter cry on the phone to him when he returned to the dressing room.
It raises the question about how boxers can shield their children to the fallout but Hannant has no reservations about bringing his clan.
"It's real life. A lot of time as parents we protect our kids and shelter them. This is the real world. You are going to have people go against what you believe.
"The older kids are coming up for the fight. It's a late night for them but it's a win-win. They are proud of their dad for getting in and having a crack. If I win they will be proud and if I lose they get to take the piss out of me. We are family. We will together and we lose together and have fun.
"I've done iron mans and marathons. I think if you face challenges and run towards them you are never the same again.''
Watch Origin Rumble LIVE on Main Event available on Kayo & Foxtel, Thursday 15 September from 7pm AEST. ORDER NOW >
Originally published as Paul Gallen stops Justin Hodges, Ben Hannant after controversial punch rocks the main event