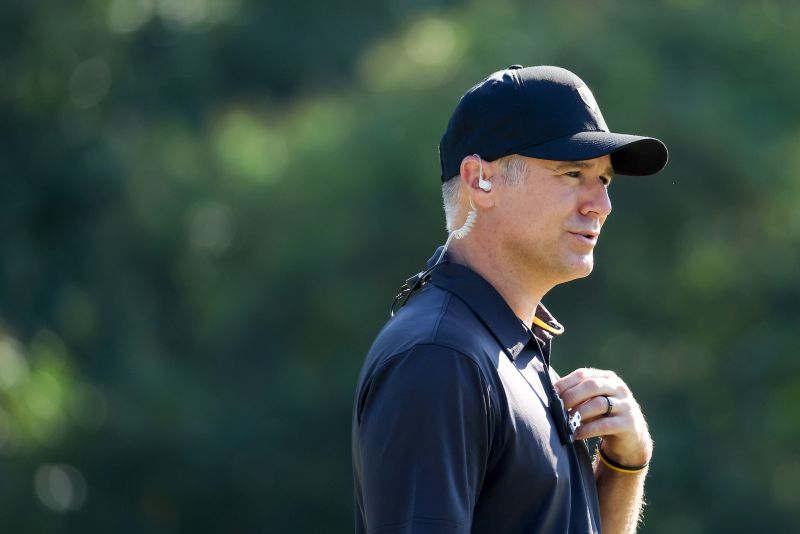 CNN
–

Played 13 times, won 1, drew 1, lost 11: The Presidents Cup form book is grim reading for the international team ahead of the 14th edition of the event on Thursday.
And as if the task of preventing a ninth consecutive US victory wasn't daunting enough, first-time captain Trevor Immelman must make history by overturning America's home field advantage with a team made up mostly of tournament newcomers.
Three years ago, the 2008 Masters winner was among Ernie Els's assistant captains as the international team watched the lead slip agonizingly on the final day in Melbourne, Australia, the venue of their lone win in 1998.
Shortly after taking over the reins from his South African compatriot, Immelman has since spent countless hours strategizing how the usual script could be rewritten at Charlotte's Quail Hollow Club this week.
"We're not blind, we know exactly what the record is, but in a way it motivates us," Immelman told CNN's Don Riddell.
"In 2019 we felt like we took a big step forward from the team aspect, from the franchise aspect so to speak.
"We've been trying, slowly but surely, to build this house and make it solid and on firm foundations because we're not just looking at this week, we're looking at the next cups."
The biannual cup, postponed by a year due to the pandemic, sees the two 12-man teams compete in 18 pairs matches before 12 singles matches conclude Sunday's tournament. Each game is worth one point, with the first team to reach 15.5 points being crowned champions.
Six members of each roster are staffed with automatic qualifiers, leaving respective captains Immelman and Davis Love III to select the remaining half. The international player pool extends to everyone outside of the United States and Europe, with this year's lineup including South Korea (4), Canada (2), Australia (2), South Africa, Japan, Colombia and Chile.
A game As a member of the 2005 and 2007 squads, Immelman believed previous groups had often struggled for cohesion prior to Els' leadership. Without a logo or team colors until 2019, Els' introduction of the shield emblem and black and gold livery served the larger goal of giving the team an identity.
"He [Els] was the perfect leader at the perfect time with enough pull and momentum to be able to make some changes and get us on that course," Immelman said.
"It's very difficult when you attract players from seven, eight, nine different countries and they come here to represent their country instead of representing that one team. Now that we have the shield, these players come here and that's what we're playing for."
For Immelman, such a shift means the international team can now avoid falling into the "trap" of choosing pairings for the events based on shared nationality, as opposed to tactical suitability for the course and opponents.
"One of the things we've changed over the past few years is breaking down those cultural barriers so that any player can play with any other player on the team," he said.
"We can see that we are big underdogs on paper and so we have to be very smart about what we do with our pairings. There are many things that go into these decisions to ensure we can try to find every little advantage that is out there to put us and our players in the best possible position to try and end the world shock of the week. "
Given the makeup of the two teams, it's difficult to argue against the underdog label. Eight members of the international squad will make their Presidents Cup debuts in Charlotte, while Adam Scott and Hideki Matsuyama represent the only major champions in the group after their Masters wins in 2013 and 2021 respectively.
Japan's Matsuyama is the highest-ranked player on the team, ranked 17th in the world. Only two players from the US team are ranked lower, with five of the world top 10 among the star-studded ensemble and world No. 1 Scottie Scheffler, Collin Morikawa, Jordan Spieth and Justin Thomas boasting seven major titles combined .
Scheffler and Morikawa are among six American debutants but still have nine PGA Tour wins combined. In contrast, on the international side, fellow Cup debutants Taylor Pendrith of Canada and Mito Pereira are still chasing their first Tour titles.
So how do you prepare such rookies for the baptism of fire that is an away-leg Presidents Cup? You start, says Immelman, "just by loving them."
"You put your arms around her, you let her know that you love her and that you are there for her," the South African explained.
"Will I be able to tell them something or give them a magic pill that will take away their nerves, fear and excitement on the first tee? No chance, that's not out there. … (But) these guys have spent thousands and thousands of hours since they started this game honing their skills and getting themselves to elite levels on the PGA Tour. They know exactly how to play this game and what needs to happen. So really just tell them to trust themselves, trust the process, trust the work that you've done.
For Immelman, however, the most important advice to his players is to just enjoy the experience, because their captain will enjoy every second.
After suffering multiple injuries during his playing career, the 42-year-old has found a "second career" in broadcasting, and he is set to become CBS Sport's senior golf analyst next year. Fourteen years after beating Tiger Woods to Masters glory, Immelman is still pinching himself after the win, his love for the game as strong as ever.
And whatever the outcome on Sunday, that romance will continue as Immelman leaves Charlotte after following in the footsteps of South African golf kings Els and Gary Player as Team International captain.
"It's been a crazy ride – sometimes I can't believe how lucky I've been," said Immelman. "I feel humiliated. Take a look at the list of captains that came before me for the international team, all the legends of the game, all my heroes, people I've looked up to my whole life.
"If you can't enjoy that, I'm not sure there's anything you can enjoy… the golf course and development is like something I've never seen in my life. Then it gets electric. We can't wait to be a part of it."