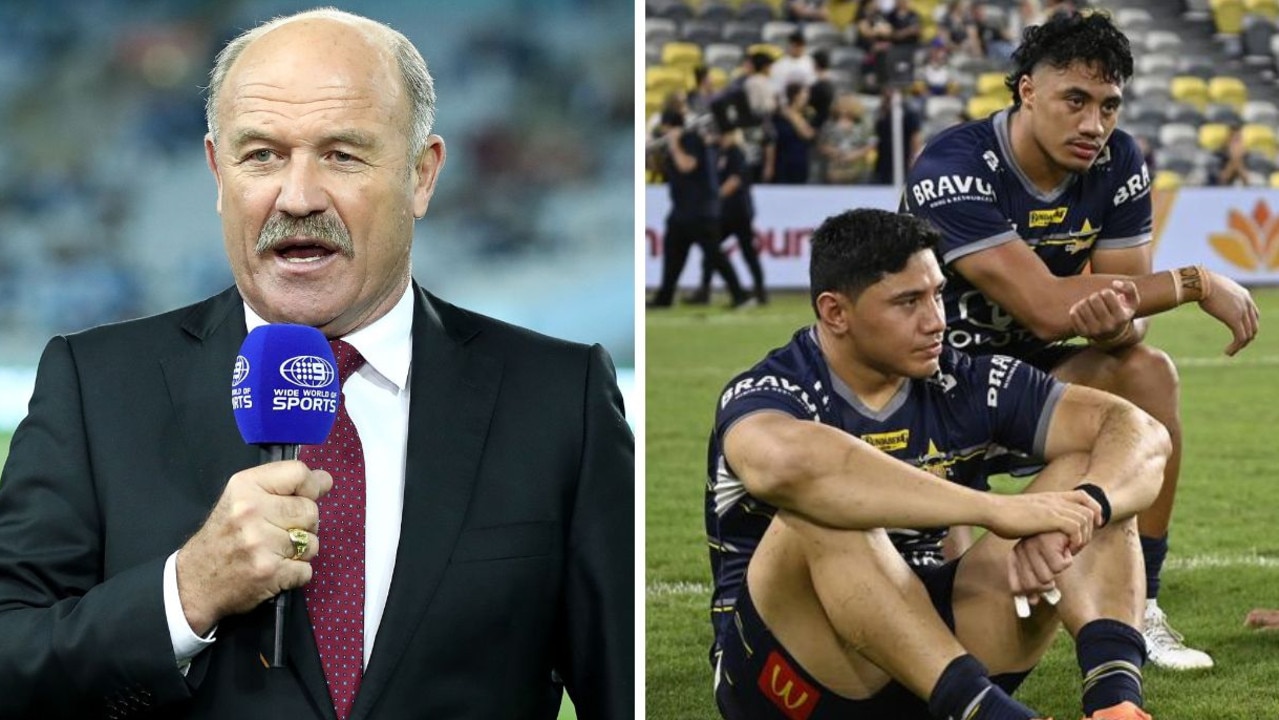 Did a forward pass steal the North Queensland Cowboys a spot in the NRL Grand Final?
That's the question rugby league fans are asking after the Parramatta Eels beat the Cowboys 24-20 in their group stage final in Townsville on Friday night.
The Cowboys were favorites for the final but a brave performance by the Eels ended the fairy tale season in North Queensland a week early.
Stream every game of the 2022 NRLW Premiership season live and ad-free during the game on Kayo. New to Kayo? Start your free trial now>
Parramatta opened the scoring when half-back Mitchell Moses threw a blatant forward pass to Will Penisini, who crossed untouched for a try that incredibly wasn't rebuffed.
The touch judge was in the perfect position to see the forward pass but remarkably let it go, much to the disbelief of NRL fans.
"Mitchell Moses spun and he spun and the ball went forward," said Fox League's Greg Alexander.
"Hands went forward, hands went forward, ball went forward," Alexander said.
The Cowboys rallied to level the score at halftime to 12-12 and take a 20-12 lead with 25 minutes left.
But a soft try on Reagan Campbell-Gillard and a four-pointer on Maika Saivo sealed the deal for the Eels.
The Eels were the better team, particularly in the second half, but pundits could not help but point out that they would have lost had Penisini's attempt at the forward pass not been allowed, as it should have been.
Sports reporter Scott Bailey tweeted: "If it wasn't an interim final this back pass would be pretty funny.
"Except it's a tentative finale, and it's not funny at all. How do you miss that?"
Queensland rugby legend Wally Lewis couldn't believe his eyes.
He exclaimed to Triple M, "I thought the pass was thrown way out front. Oh, that went a meter and a half forward!
"That's a shame! An absolute shame! how could you miss it He was practically on a similar line.
"I mean, sometimes a ball can float forward and you're like, 'Well, maybe the referee made a judgment.' It was like a shot – it just went forward like that."
After the game, Cowboys coach Todd Payten said he wouldn't blame the forward pass for the loss.
"My first instinct was I thought it was forward, but looking back at the replay a couple of times I thought it was pretty close," he said.
"It happened early enough in the game to get over it. We went in 12-12 at halftime and 20-12 after 55 minutes, so we went on pretty well."
Melbourne Storm great Cameron Smith said while the forward pass was statistically the difference between winning and losing for the Cowboys, they had enough chances to win.
"I think the ball came out of his hands in a forward motion – maybe it went a meter, a meter and a half forward," he said on Channel 9.
"You can focus on that call and say that was the difference. But at the same time, the Cowboys had plenty of chances to score more points. You made some mistakes after that missed call. It's one of many things that happened during the game.
"I don't think the Cowboys players and coaches are going to sit down and say that's why we lost. I think they will look at their own performance and say: 'We had chances to win the game, the opponent was just better.
"If you look at this as an isolated incident, you could probably think, 'They made the attempt, they kicked the goal, they went up by six and we lost by four, that's why we lost.' But I don't think they will."
The Eels are playing in their first Grand Final since 2009. They meet the winner of Saturday's preliminary final between Penrith and South Sydney.
Read related topics:
Brisbane