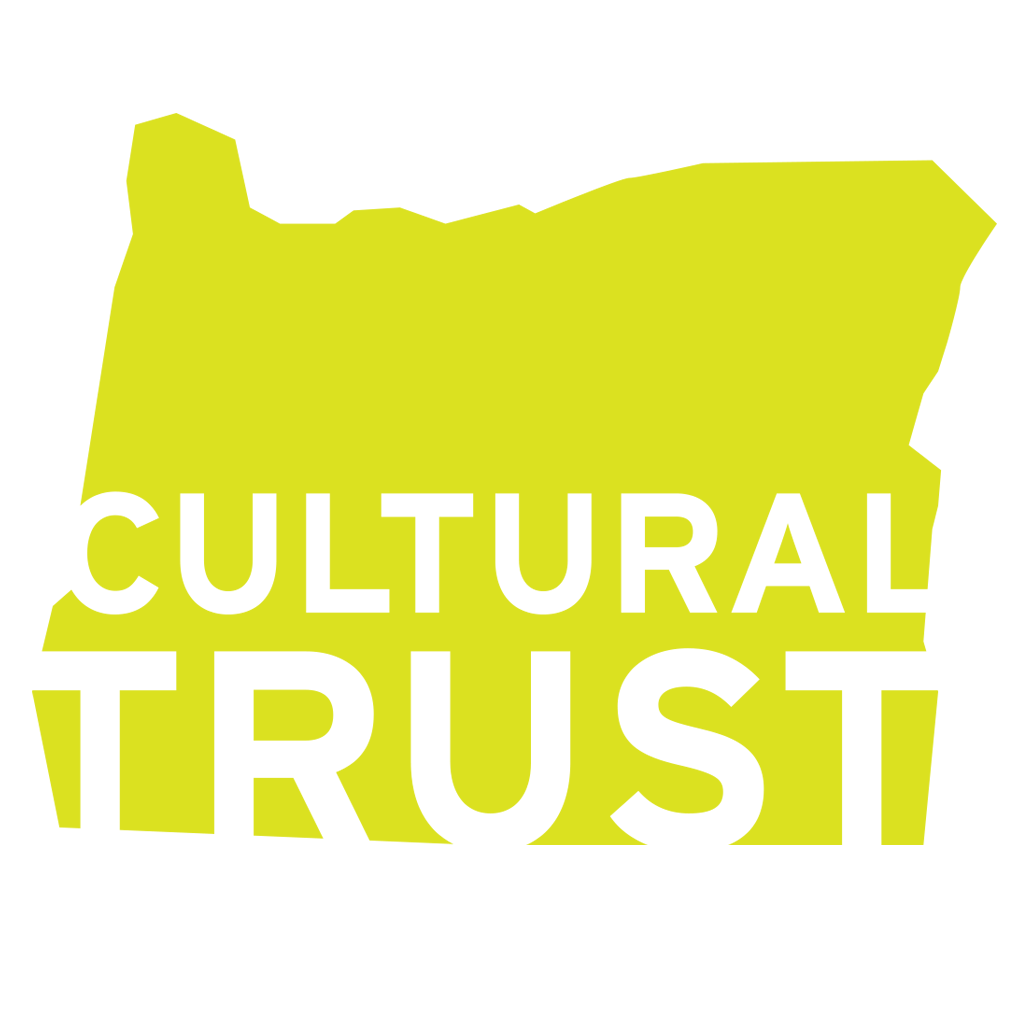 While the stunning new look of the Oregon Coast Art Bus was the focus of an unveiling event at the Newport Performing Arts Center on August 18, the reaction from local youth stole the show.
As the repackaged Art Bus pulled into the event – featuring the vibrant and colorful Celebrate Oregon! Artwork developed by the Oregon Cultural Trust – Children from Newport were busy making their own artistic creations to demonstrate the mission of the art bus. Fascinated, they then joined artist Liza Mana Burns to explore their creation and the many symbols it contains.
"What is that?" announced a child, pointing. "It's a sticky rice basket," Liza replied. "People from Laos make sticky rice out of it – it's really good!" They spotted the gray whale, which a young girl decided "swimmed both ways." And they tilted their heads to get a better look at a conversation icon.
It was a perfect marriage of art and access. The Oregon Coast Art Bus removes transportation and cost barriers for youth on the Oregon Coast without regular access to hands-on art activities. It is a program of the Oregon Coast Council for the Arts.
"We believe that absolutely everyone deserves access to the arts," says Jason Holland, executive director of the Oregon Coast Council for the Arts, which manages the Art Bus. "The Art Bus helps us make that happen, literally, and creative experiences emerge from its work."
Celebrate Oregon! Artwork was developed by the Cultural Trust in an 18-month process involving more than 100 national nominators, artists, judges and content experts. The goal was to create a single work of art that honors and respects this place, its people and the diversity of our cultural practices. The artwork, which debuted on the Cultural Trust's new license plate in October 2021, is now featured in large-scale murals at Oregon's airports in Eugene, Medford, Redmond and Portland — it also appears on a 38-foot banner in front of Portland Art Museum.
"The artwork brings the Oregon Cultural Trust to the fore," said Niki Price, CEO of the Cultural Trust. "It helps everyone understand that we're celebrating what's colorful, vibrant and exciting about Oregon."
The Cultural Trust supports nonprofit arts, heritage, and humanities organizations throughout the state of Oregon through the Cultural Tax Credit. Oregonians who match their donations to cultural organizations with a donation to the Cultural Trust receive a 100% state tax credit on their Trust donation. Meanwhile, legislators set aside these funds to fund cultural projects. Oregon residents used a record $5.7 million of their state taxes to fund the arts, heritage, and humanities in fiscal 2022.
As a result, a record $3.4 million was awarded to 138 cultural organizations in August. The Trust's three grant programs fund five statewide partners, 45 county and tribal coalitions, and qualifying cultural nonprofits through competitive cultural development grants. The remaining 40 percent of the funds raised are invested in a permanent cultural fund.