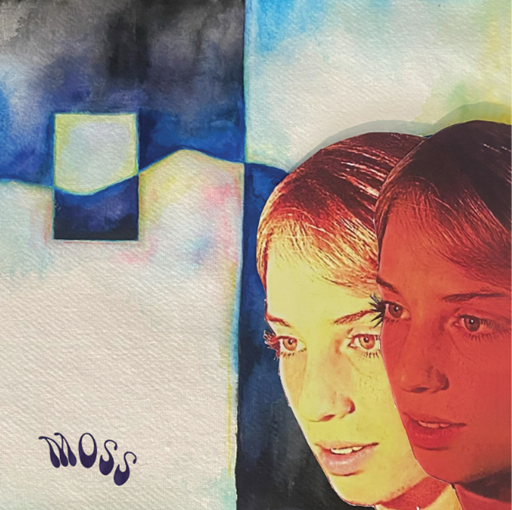 When Maya Hawke wrote about all kinds of love on her debut album Blush, she had a way of wrapping it up in metaphors. "You can't scare me away," she sang on "River Like You," "I've tamed the moss upon the rocks / And mold the red clay." The song stood out in a coming-of-age collection that was alternately wistful and whimsical, taking us through her formative years with diary-like lyrics that sometimes pull straight from those years in her life. Hawke revisits this metaphor in his follow-up, moss, an album that reflects that same time with the clarity of maturity and detachment that always feels bigger than it could be. "A lot of times in the acting world you get cast to play 14 at 16, 16 at 20 — the cool thing about that is that when you're 16 you know a lot more about what it means to be 14," Hawke recently said in an interview . "So I took that ethos and used it in my music." The result is a beautiful record that shows her evolution in refining a certain style of indie folk while keeping up with Hawke's poetic yet touching songwriting.
Both sonically and structurally moss is more focused and coherent than its predecessor, which used its variety of sounds more as a playground to explore Hawke's musical sensibilities. It began as a collaboration with Okkervil River's Benjamin Lazar Davis, who attuned to the rhythmic flow and emotional intricacies of Hawke's poetry and helps bring it to life. As the songs blossomed into a full album, they hired guitarist Will Graefe and Phoebe Bridgers collaborators Christian Lee Hutson and Marshall Vore; Graefe also provides additional vocals on a few tracks, and Hand Habits' Meg Duffy even makes an appearance on "Backup Plan." Jonathan Low, who mixed Taylor Swifts folklorealso mixed mosswhich clearly aims to sound like a cross between this album and punisher. However, rather than trying to recreate what a fashionable indie album sounds like in 2022, Hawke and her collaborators use this palette to evoke the muted intimacy and playfulness that runs through their songwriting, with each embellishment feeling like a deliberate extension of their stripped down feel debut.
For one thing, there are well-written and melodically resonant songs that wouldn't feel out of place in any of Swift's 2020 releases. The pre-chorus of "South Elroy" offers a glimpse of Swift's magic, but not enough to detract from the song's own character; Crazy Kid is incredibly close to Bon Iver's duets, but doesn't feel like cosplay. moss is at its best when it focuses on the unique idiosyncrasies and confident charm of Hawke's songwriting. On "South Elroy," she contrasts the light, delicate tone of the music with lines like "When we fight and we fucking and we fight / I always takes your side." "Sweet Tooth" has a singsong quality but the joyful feel to it the surface — "I'm grateful for everything you've done to me / It's the only reason I can talk well now," she probably sings to her mother — is undermined by ambiguous, dreamlike imagery of decay and loneliness.
Part of what sets Hawke's poetry apart is this talent for the surreal, and moss is shot through with a kind of dizzying imagination that's a pleasure to follow. 'Thérèse' takes inspiration from Balthus' 1983 painting Therese Dreaming and drifts into a hazy meditation on personal autonomy and public perception; Like the album's most compelling songs, it feels like a gentle, if somewhat unsteady, dance. The story of "Bloomed into Blue" is shrouded in alliteration, but Hawke deftly saves the most penetrating sentence for last: "I have believes in my brain, I'm a bottomless sea." There is a darkness that pervades the album pulls that seldom passes for simple melancholy, and the rich arrangements offer more than a decorative flourish. An electric guitar bleeds through "Luna Moth," a song about inflicting pain that blurs the line between memory and fantasy; On "Sticky Little Words" a bitter realization is accompanied by a rise in bass harmonies that create an uneasy effect.
Hawke contrasts these fluttering, uneasy moments with a strong vulnerability and determination. "I know you bleed glitter and had a heart of stone / But all I really want is an actor of my own," she admits in "Hiatus," which especially shies away from using too much figurative language . Similarly, "Driver" avoids alluding to the singer's life in the limelight through veiled references — what makes it striking isn't that you know exactly who she's referring to when she imagines her parents being "loose." sitting in the back seat of a taxi". but how she then incorporates her thoughts into the story. "Now I'll tell you a secret," she leans forward at one point, although she is clearly separated from her interlocutor. "A secret everyone already knows / You remind me of my father / Your attitude / Your disheveled clothes." Before you know it, she brings us back to that famous saying — "A rolling stone doesn't gather moss" — and you're asking whether freedom, this constant movement, leads to more happiness than alienation. However, Hawke doesn't let the confusion hold him back. "Oh my god, I gotta slow it down somehow," she recalls at the end of "South Elroy," finding beauty in silence.