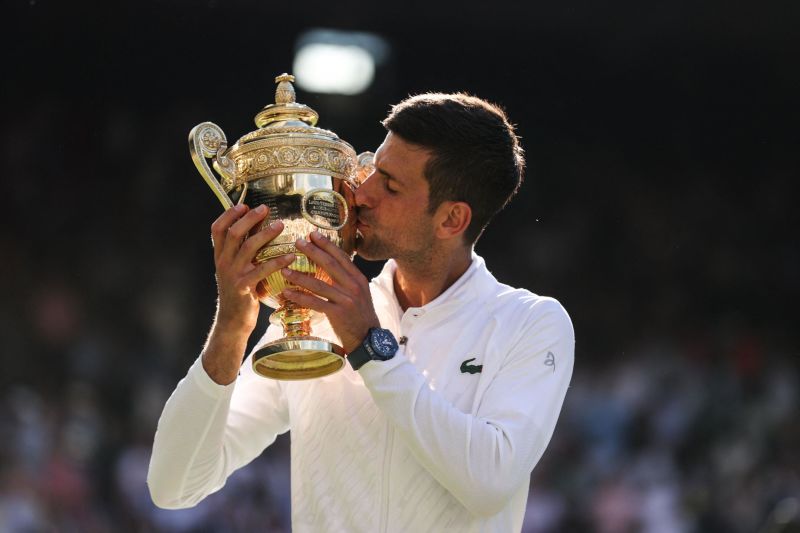 CNN
–

Novak Djokovic won his fourth straight Wimbledon singles title and his 21st Grand Slam title overall on Sunday.
The Serbian star defeated Nick Kyrgios 4-6, 6-3, 6-4, 6-6 (7-3) in a thrilling final on Center Court.
Djokovic came from an early deficit as Kyrgios got off to a quick start. But the veteran 35-year-old fought back to win his seventh Wimbledon title – winning in 2018, 2019 and 2021 after 2020 was canceled due to the Covid-19 pandemic.
He is now one Grand Slam title behind Rafael Nadal's all-time record of 22.
Afterwards, Djokovic – who said Kyrgios is an "amazing talent" and that he will be in a Grand Slam final again – said he had "lost the words of what this tournament and this trophy mean to me".
"It was and will always be the special thing in my heart. It motivated me to play at my little mountain resort and I saw Pete Sampras win and I asked my mom and dad to buy me a racquet," he told Sue Barker on center court with the Wimbledon Trophy.
"It was my first picture of tennis – each time it becomes more meaningful and I am blessed to be standing here with the trophy.
"It's the most extraordinary tennis court in the world and when you walk on the pristine grass and everything is so focused on the tennis, the ball and the players' racquet, it has the greatest recognition in the world."
It was the fight of one of the greatest against the underdog in tennis.
And under the scorching London sun, with not a cloud in sight, it didn't disappoint.
Despite playing in his first Grand Slam final, Kyrgios – who qualified for the final after Nadal retired through injury – showed absolutely no sign of being overwhelmed. Faced with world No. 3, his powerful serve boomed from the start.
The pair traded rallies at a blistering pace, both showing pinpoint accuracy and skill to keep each other on their toes.
In the middle of the opening movement, Kyrgios made the first major breakthrough. The Aussie broke Djokovic's hold at love and secured the opener behind his almost irrevocable serve to calm his nerves – if there were any at all.
Djokovic, playing in his 32nd Grand Slam final, was often the less favored player when playing at Wimbledon and often faced Nadal and Roger Federer, and it was the same in Sunday's final.
Kyrgio's unique style of play, including his occasional toast to his penalty area, wowed viewers and it was the same in the final where the 27-year-old received plenty of support.
In the second set, however, Djokovic slowly but steadily found his footing.
He managed to lengthen the rallies, using his skill and resilience to stay in the game and eventually carry Kyrgios.
And in the fourth game of the set he broke Kyrgios to take a two-game lead – the first time he broke the Australian in their three encounters.
Kyrgios struggled to stay in the set, scoring three break points when Djokovic served to level the sets. But despite some complaints towards his box, he failed to convert any of them as Djokovic returned the game to par.
The third set was the most balanced so far. With both players serving strong, they showed extreme quality as they traded games.
Midway through the set, Kyrgios showed some of the irritability that has plagued his career. Some noise from the crowd between a first serve and a second serve prompts him to complain to the referee. After the game ended, the TV microphone picked up Kyrgios and asked the referee to throw the offender out.
"There's no greater occasion and they did it again and it almost cost me the point," he raged. "She's drunk to death, so kick her out. I know exactly who it is – she's the one who looks like she's had about 700 drinks.
In the next game, the pressure started to look like it would betray Kyrgios when Djokovic broke the 27-year-old, prompting a rant towards his box in the break between games.
And when Djokovic served for the set, he made no mistake and came back from one set to take the lead.
With the end in sight, Djokovic locked in and began turning the screw. But even though Kyrgios was on new ground, he stood his ground.
Nothing could separate the pair as they went back and forth, ultimately needing a tiebreak to decide whether Kyrgios could force a final set or Djokovic would get his hands on the famous trophy one more time.
In the highest pressure of the game to date, Djokovic's experience showed as he sped into a huge lead and didn't give it up as he clinched a remarkable seventh Wimbledon title.
Afterwards, despite their past differences, Kyrgios was full of praise for Djokovic, calling him a 'little bit of God'.
However, when asked if reaching his first Grand Slam final made him hungry for more, Kyrgios was emphatic.
"Absolutely not! I'm so tired, honestly. Me, my team, we're all exhausted. We've played so much tennis," he told Sue Barker on Center Court.
"I'm really happy with this result and maybe one day I'll be back here, but I don't know."