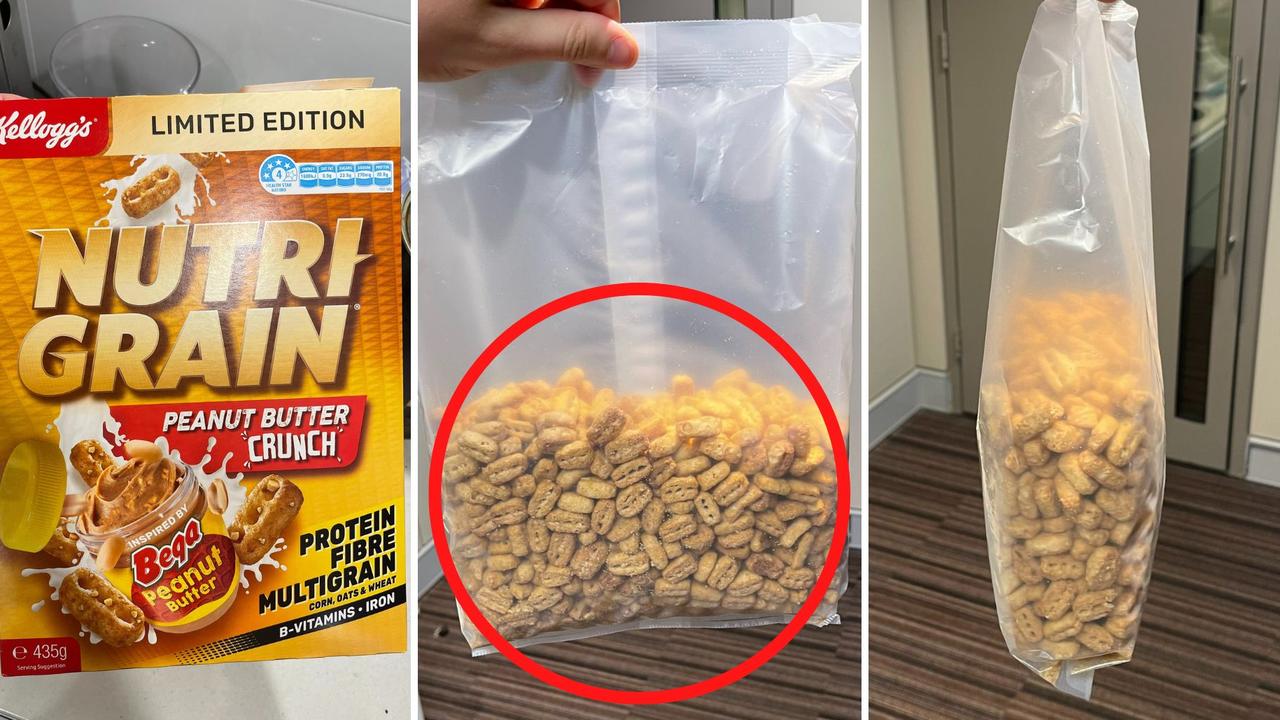 Frustrated cereal lovers are feeling "ripped off" and "cheated", sharing upsetting images of an Aussie staple which has recently had a limited edition makeover.
It was a collaboration which at first glance appeared promising, but the Kellogg's Nutri-Grain and Bega Peanut Butter Crunch cereal has come up short in the eyes of consumers.
Cereal consumer Nick Harris vented his frustrations with the new release from the cereal and snack giant.
"Just went down to the shops to buy some breakfast … $8.50 for a box of cereal that is not even half full is outrageous," he said after purchasing the cereal at a Woolworths in Sydney last week. "Do better please Kelloggs."
Mr Harris said he saw red when first pulling open the cardboard flaps to take out his morning snack.
"When I opened the box, I didn't notice any cereal at first glance, I thought there was an error where I had been given a bag with no cereal in it, all I could see was air, until I pulled it up and eventually the cereal appeared," he told news.com.au.
"I am disappointed because I love cereal and peanut butter and actually had never had Nutri-Grain before so I was really excited to try it and had high hopes. It's safe to say I won't be having it again."
Kelloggs customer Dennis Shanahan also took to Facebook to share his frustration with the nutty Nutri-Grain's packaging.
"Gee what a buy, Limited Edition Nutri-Grain. You're limited to a third of the box, great stuff Kelloggs," he said.
"I bought some from Coles, wasn't impressed, 6 bucks for bugger all in a cardboard box," one user commented on the post.
"It's the limited edition Weight Watchers box," "what a joke," and "bonus air" said others.
Not only are customers angry with the skewed cereal to packaging ratio and price of the new flavoured release, the actual product itself has also failed to hit the mark.
"The ad for the cereal boasts a 'next level taste', there is no taste," said Mr Harris.
"There is no peanut butter flavour at all."
Aussie customers are calling on Kelloggs to either reduce the box size/overall packaging or include more cereal inside.
"The size of the box is to confuse your brain into thinking there is much more in it for the price," one social media user said.
"I just want them to take some responsibility and accountability for it and stop misleading customers," Mr Harris said.
In a statement given to news.com.au, a Kelloggs spokesperson said the brand's range of cereals were "sold by weight, not volume."
"Each box of cereal is weighed multiple times throughout the production process to ensure it's the correct weight, as indicated on pack," the spokeswoman said.
"It's important to note that the air in each bag has a vital role in maintaining the freshness and quality of the cereal and protecting it from breakage."
The cereal icon said customers are encouraged to contact the brand directly if there is a sealed pack that is underweight.
Originally published as 'Cheated': Aussies fed up with cereal giant's 'rip-off' release