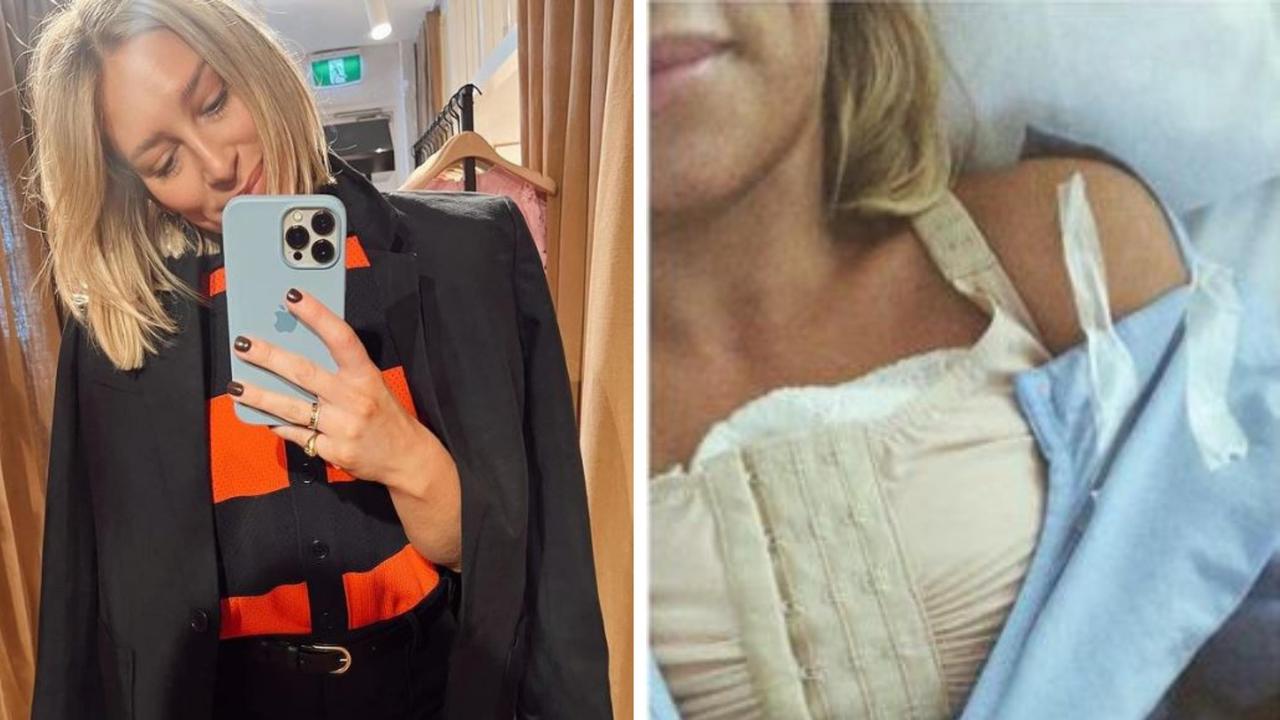 Phoebe Burgess has opened up about her decision to undergo a breast reduction, after a "volatile" lifelong relationship with her boobs.
The media personality and mother-of-two shared her experience in the latest episode of her podcast Under The Gloss – and in a subsequent post on Instagram – detailing the extreme lengths she would go to hide her chest.
"I have had a very private, but very up and down relationship with my boobs. We're volatile. If we were in an actual relationship I would have dumped them years ago," Burgess wrote in the post, alongside images of herself post-surgery.
"If you're thinking uhh what boobs Phoebe? I had become the master of concealing them.
"Beneath strategic outfits, I did everything from cling wrap hacks, to the Kim K lift-and-squish using duct tape – which btw, yes, does feel as though you are ripping your own nipples off when you removed, and, of course, there was the multiple bra layering system where I'd wear one supportive sports bra under a 3-sizes-too-small-sports-crop designed to flatten (not ideal for deep breathing).
"Every bra I owned – and still own – are what the lady at DJ's called 'The Minimiser' – no underwire, zero padding, and I bought them so tight my boobs would sit, literally, under my armpits. Yes, @skims is now my happy place. I thought this was all normal."
While Burgess said that she "believed wholeheartedly other women looked beautiful owning their bodies, including women with larger cup sizes than me, I just couldn't connect to mine".
"BUT this wasn't enough for me to surgically alter my body. I acknowledge some women wanted larger breasts. Some were forced to lose theirs. My issue felt superficial," she said.
"Until the way they looked or felt naked stopped being the only issue I had with them … The pressure on my neck, my nerves, my injured back was mounting … there was a dragging, a mind-numbingly, never-endingly painful pull."
So in 2020, off the back of her October 2019 split from ex-husband, former NRL player Sam Burgess, "I made a decision that would alter my breasts forever".
"At this point I had two children and my divorce was imminent. I think I'd waited a few months after I left the marriage, I remember just 'knock, knock, knock' on the surgeon's door and I was like, I am so ready," Burgess said in the episode.
"I had two kids and the person who I had sort of done this with, I donated my body to the cause. We got these beautiful little humans. There was no one else looking at it and telling me it was beautiful. That responsibility to feel self love was on me."
And so she went ahead and made the booking for a breast reduction and lift – and it's a decision Burgess said she'd make "again and again".
"Obviously [the surgery and recovery] is painful," she said.
"I now have a two-centimetre scar from my nipple down the base of my breast. But I don't care – I do not give a sh*t about that, as we can do corrective or whatever.
"I remember even though I had like an infected wound and pus for weeks after the surgery, I remember just feeling so free.
"I hope you learned something today ladies about taking control of your own body. And boys – I hope you learned something, namely: don't tell a woman what to do with her body."
Originally published as Phoebe Burgess reveals secret boob reduction operation