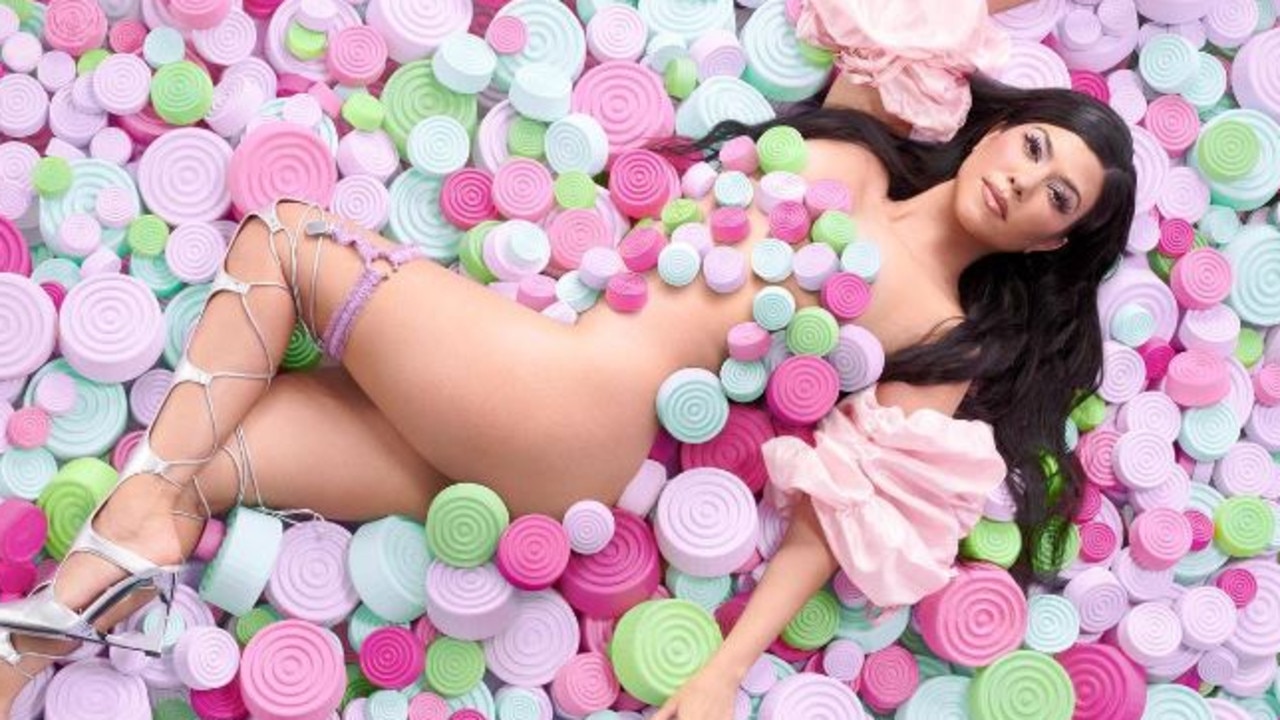 Kourtney Kardashian Barker has celebrated the launch of her new product line with a risque naked snap – but not all of her fans are impressed.
The 43-year-old left her fans hanging with anticipation earlier in the week after announcing the launch of her new brand, Lemme.
Her followers had no idea what the oldest Kardashian's new products would be, but due to the star's openness about her physical relationship with musician husband Travis Barker, 46, many speculated it was a sex toy or sexual wellness line.
But the reality TV star shocked her fans she revealed today that her brand Lemme was actually a line of vitamins.
"Lemme finally share what I've been up to," she wrote on her Instagram page.
"I've been dreaming of this idea, having lots and lots and lots of meetings and conversations with different people trying to figure out the best way to build this, the right partners and building the team that felt really good.
"When it was finally all right, it was all happening with ease. Lots of hours, zooms, dreaming, but all with swift decisiveness and actual fun.
"At last, 5 years later my passion/work baby is finally launching into the world. Meet Lemme – my new line of vitamins & supplements that I created to become a divine, feel-good part of your everyday life.
"We partnered with the best scientists and doctors to create the cleanest gummy vitamins and supplements – using clinically-backed ingredients and formulations that help you to live your best life.
"And of course, we made them so delicious you won't believe they're this good for you."
While many excited followers of Kourtney flocked to the comments to express their delight at the announcement, there were many of her fans that said they were left "disappointed".
"Well, that was disappointing. I totally had guessed & hoped it was a sex toy line" commented one.
"I thought it was going to be sex toys … disappointed haha" said another.
"Should've been sex toys. I can't see many buying this" commented one.
"Still convinced that it's a vibrator brand!" said another.
Kourtney and her husband Travis Barker – who is the drummer for rock band Blink 182 – made headlines earlier this year with their racy snaps from their wedding in Italy.
"Cheers to forever," she captioned a collection of black-and-white Instagram photos of the newlyweds relaxing on a yacht, still in their Dolce & Gabbana wedding garb.
Kourtney appeared to bask in her husband's affection in every snap, including two where he is seen attempting to remove her garter with his teeth.
He also replied, "Forever my love" within the comment section of his bride's original post.
The rocker later followed up Kourtney's post with a carousel of his own, featuring cozy shots of the couple in an elevator, captioned, "Love in an elevator."
Thousands of fans commented on the snaps, many with their jaws left wide open.
"Wow," one follower simply wrote.
"This man is setting all kind of love trends," another joked, while a third added: "Perfect."
Some noted Travis's "foot fetish", while others felt "wildly uncomfortable".
"Ummm …. Can you save that for your bedroom? I do! No one needs to see this," one person said.
Originally published as Kourtney's naked snap to promote new product line disappoints fans