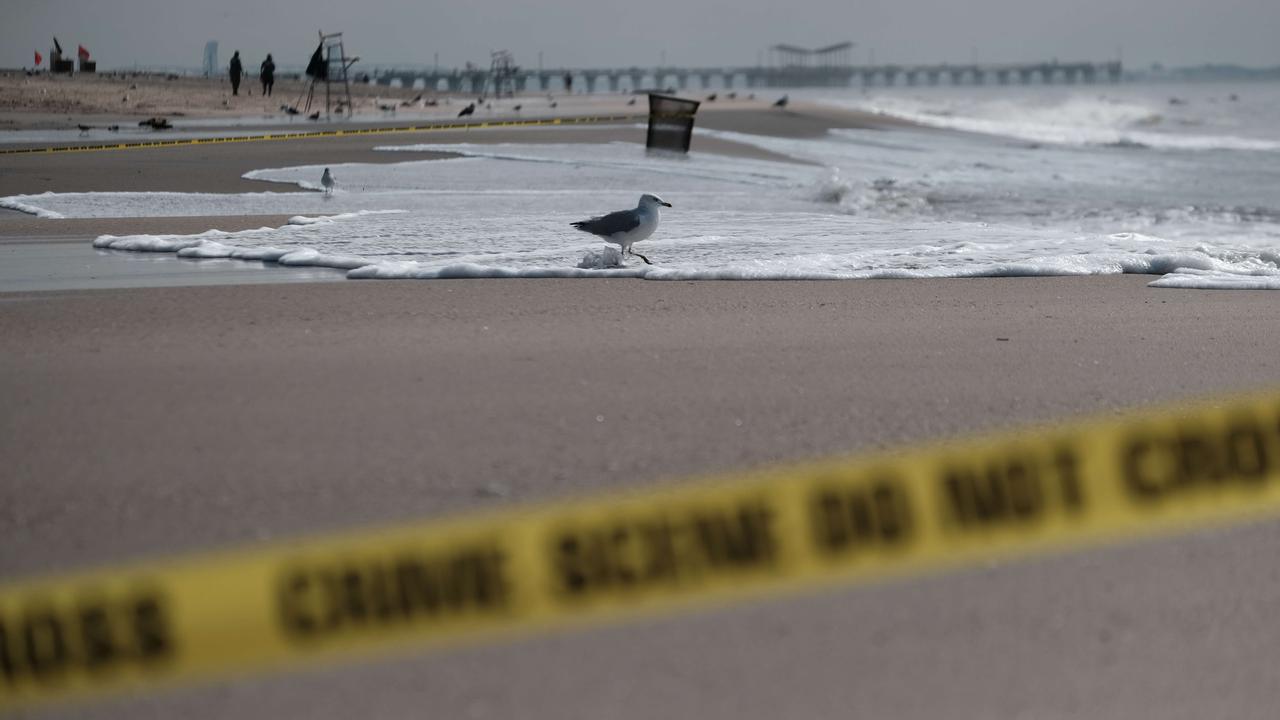 Three children have been found dead after a woman allegedly confessed to family members to drowning them at a New York beach early on Monday, family and police sources said.
Erin Merdy, 30, who has a history of mental health issues, was seen walking along the beach barefoot and in a robe, apparently soaking wet and appearing "despondent", police said.
She allegedly told relatives she had "drowned all three kids", sources said.
Her three children – three-month-old Oliver, Liliana, 4, and Zachary, 7 – were discovered unresponsive at around 4.40am along the shoreline of Coney Island beach, three blocks from their mother's apartment, police sources told the New York Post.
"The mother was soaking wet," NYPD Chief of Department Kenneth Corey said at a press conference. "Whether she had been out in the rain or whether she had been in the water, again, is all speculative at this point. She was wet, she was barefoot, and she was not communicative to the officers."
Ms Merdy was initially taken by officers for questioning but then she was taken to hospital, according to sources and exclusive Post photos and video.
"We're devastated. They were kids. They were adorable kids," said Dine Stephen, Ms Merdy's aunt.
"It's someone who was struggling, and no one knew how bad the struggle was."
Ms Stephen said Ms Merdy's family has a history of mental illness and her niece was "struggling" as "she was trying to find her way through life".
"In this family we do have a history of mental illness to varying degrees. A few of us have battled with bipolar disorder, but I didn't know her mental struggles. I just knew she was trying to find a way for her children, a way to get on her feet," Ms Stephen said.
"She loved her children. She loved her children very much. It was the mental issues that took over."
Intensive search for three children
An intensive search for the mother and the kids began about three hours before the children were found on the beach, when a relative called police, expressing fears that the mum might have harmed the children, Chief Corey told reporters.
Police responded to the family's apartment at around 1.40am, he said.
No one answered the door but officers were met by a father of one of the children inside the building, Chief Corey said.
He "expressed similar concerns" about the welfare of the mum and kids and said he believed they were on Coney Island beach, the police chief said.
"I believe that she had called [family members] and made statements to them to that effect," he said.
Police sources said numerous family members had called 911 to report that Ms Merdy "may have done something to the kids", might be under the influence of alcohol or drugs, and had a history of mental health issues.
Officers then swarmed the boardwalk, the shoreline and surrounding streets, searching for 90 minutes before they received another call sending them to the Brighton Beach boardwalk, Chief Corey said.
There, they found Ms Merdy with some of her relatives, he said.
The search for the children then "intensified" with the NYPD's aviation and harbour units helping to scour the area, Chief Corey said.
Authorities made the heartbreaking discovery of the children's unresponsive bodies about 3km from where their mother was found.
"The officers immediately initiated lifesaving measures including CPR on the children, and [the children] were rushed to Coney Island Hospital, where they were regrettably pronounced deceased," Chief Corey said.
Distressing photos show first responders running through the sand and on the boardwalk, carrying the children in their arms. Later, Ms Merdy was photographed on a stretcher as paramedics wheeled her into hospital.
The mum had previous custody disputes with one of the children's fathers, police sources said.
In July, the dad, who is an air-traffic controller in Virginia, told officers Ms Merdy didn't show up when she was supposed to drop off their son to him for a scheduled custody visit, the sources said. The disposition of the incident is unclear, and it's also unclear which child wasn't brought for the visit.
In March 2021, Ms Merdy filed a domestic-incident report against the same father, accusing him of sending verbally abusive text messages and threatening to take her to court for money, sources said.
The man couldn't immediately be reached for comment.
'Devastated' over children's deaths
Alfred Brown, who was Zachary's football coach, told The Post he's "devastated".
"I'm in school with them, I'm on the field with them – I'm damn near their uncle. It's hard right now … I love every kid that plays for me like my own," said Brown, who also lives in the same apartment building as the family," he said.
"Zach was a very bubbly kid who was full of life. Just full of energy, you know you'd have to say, 'Enough, enough.'"
The coach said he didn't know Ms Merdy very well and called her a "very quiet lady".
"From what I know she was a good mother. She was always with her children, always with her babies. You never know what people are going through," he said.
Mr Brown said Zachary didn't play for the team this year because Ms Merdy thought the season would be during the summer when her son had plans to visit his father.
"[Zachary] was supposed to come back this year, but he didn't," Mr Brown said. "Now I wish I would have had him this year to play for us – maybe it would have helped the parent.
"Everybody at school is a little sad. … We just have to be there for each other."
Dmitriy Volper, who lives a few doors down from Ms Merdy's apartment, called the incident "an unspeakable tragedy".
"Sometimes her kids ran in the hallway. They were nice kids. They had a little dog," he said.
Autopsies for the children are under way, and no charges have been filed, sources said.
Additional reporting by Reuven Fenton and Jack Morphet
This post originally appeared on the New York Post and has been republished with permission
Originally published as Mum told family she 'drowned her three children' at popular New York beach, police say