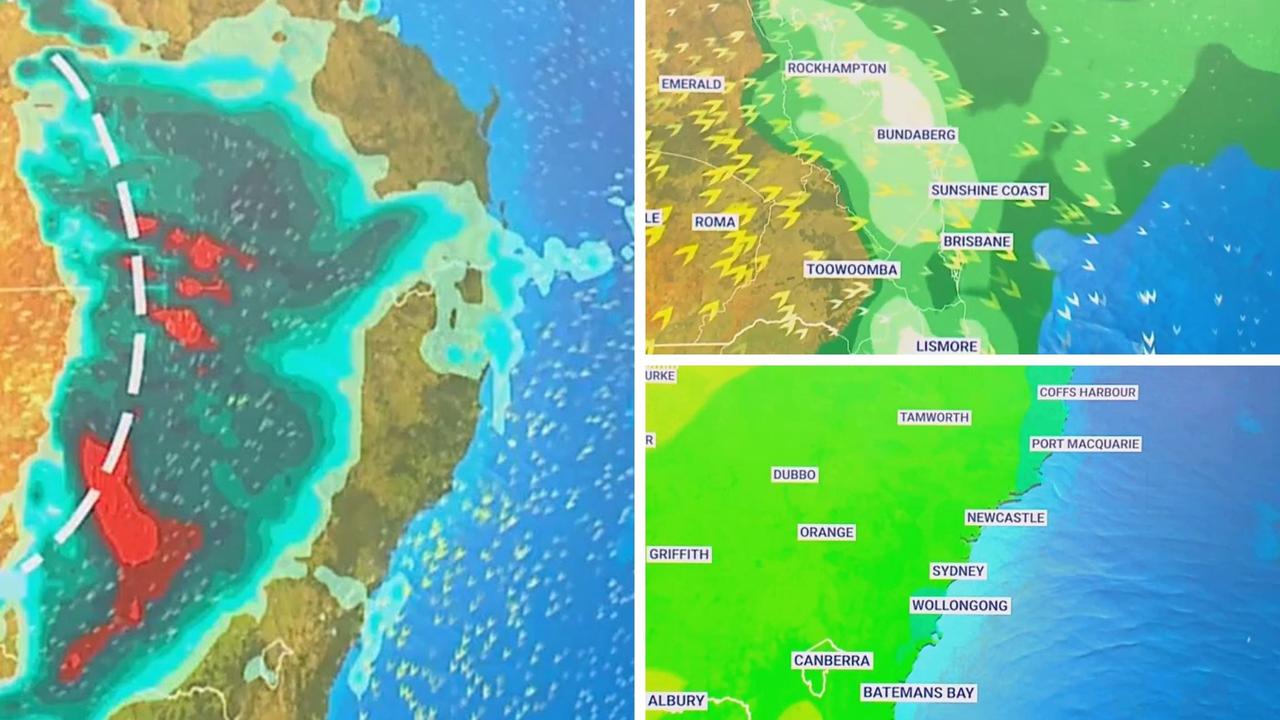 Forecasters have warned that severe storms are set to smash the east coast of Australia from Wednesday.
Dangerous supercell storms will possibly be in the mix and flooding is possible as 100mm or more of rain falls in the coming days in some areas.
It will likely mean a very soggy public holiday in memory of the Queen on Thursday. The grey skies may be apt for such a solemn day.
Sydney and Brisbane in particular could see heavy downfalls as the week continues. There are currently scores of flood warnings spread across Queensland, New South Wales and Victoria.
"First thing Wednesday morning, a band of rain and storms will extend through Queensland and then a rain band through the southern Murray Darling basin all fuelled by that low pressure system and trough," said Sky News Weather meteorologist Alison Osborne.
"The rains will reach the coast during the afternoon."
Around 100mm falling in places
The system could then stall parking itself over coastal NSW prolonging the rainfall.
"This is highly dependent on the position of the movement on that system," added Ms Osborne.
"However, the heavy rainfall could be out to sea or just over one location of the coast.
"There is the slight threat of supercells, our most dangerous form of thunderstorms which can bring damaging winds, giant hailstones and isolated heavy rainfall."
On Friday those showers could move into Victoria although they are likely to be not as heavy.
Widespread falls of up to 100mm over the next eight days are possible over the NSW coast, with around 25-50mm falling over inland areas of the state from Dubbo to Griffith and into Victoria.
"These areas are already suffering road closures and moderate and major flooding and this will exacerbate that situation and prolong the floods."
In Sydney, rain could come late to the city on Wednesday with between 4-10mm falling. Then on Thursday 15-25mm may accumulate with winds of up to 35km/h.
Showers will continue on Friday but should lessen during the weekend.
Temperatures will rise to around 20C most days with lows of 15C.
The rain will hit earlier and harder in Dubbo with a possible 35-50mm coming down on Wednesday morning. But it could also clear more quickly with only a few drops on Thursday.
Port Macquarie is forecast to see between 45 and 85mm of rain between Wednesday and Friday with the heaviest falls on Thursday.
Canberra may miss the heaviest of the falls but it will still see hours with rain, up to 15mm, developing on Wednesday. Then light falls – at around 5mm- on both Thursday and Friday.
Temperatures will dip to 5C on Wednesday with a maximums of 19C.
Possible supercell storms
Showers increasing on Wednesday for Brisbane but to the total won't be high. Then on Thursday between 8 and 20mm could come down with the chance of thunderstorms.
Indeed storms could be a feature from Lismore in NSW to north of Mackay. But they would be more likely on Thursday, potentially some of those could be the more dangerous supercell variety.
Inland areas will be prone to rain too. Charleville, for instance, could see up to 15mm on Wednesday.
Melbourne will stay dry with temperatures peaking around the 20C mark for the next few days. Friday could see some showers continuing into Saturday.
Much wetter as you head towards NSW. Wodonga could see showers – albeit some light – most days for the next week with 5-10mm on Wednesday, up to 8mm on Friday and as high as 10mm on Monday.
Dry in Hobart until Friday when 6mm could fall with a further 4mm on Saturday. Temperatures peaking at 21C on Thursday with a low of 10C, dropping to a 14C maximum on Saturday.
A few spots of rain in Adelaide on Wednesday which is mostly away from the front pushing east. Then mostly cloudy and dry but showers on Sunday are forecast. The mercury will generally top out in the high teens falling to around 10C overnight.
A sprinkle in Perth on Wednesday then dry including on the Queen's public holiday. Up to 10mm of rain could fall on Saturday as a fresh front heads through. Temperatures, like Adelaide, in the high teens.
'Relentless' heat in north
The north of the country is set to be very hot, however, said Sky's Ms Osborne.
"The northern Tropics it is a very hot and some areas could exceed 40C. The relentless heat not going anywhere anytime soon."
Darwin will see a string of blistering 35C days with sun and lows of 25C. Townsville is expected to see highs reaching 30C.
Originally published as Queen's funeral public holiday weather: Severe storms set to hit east coast