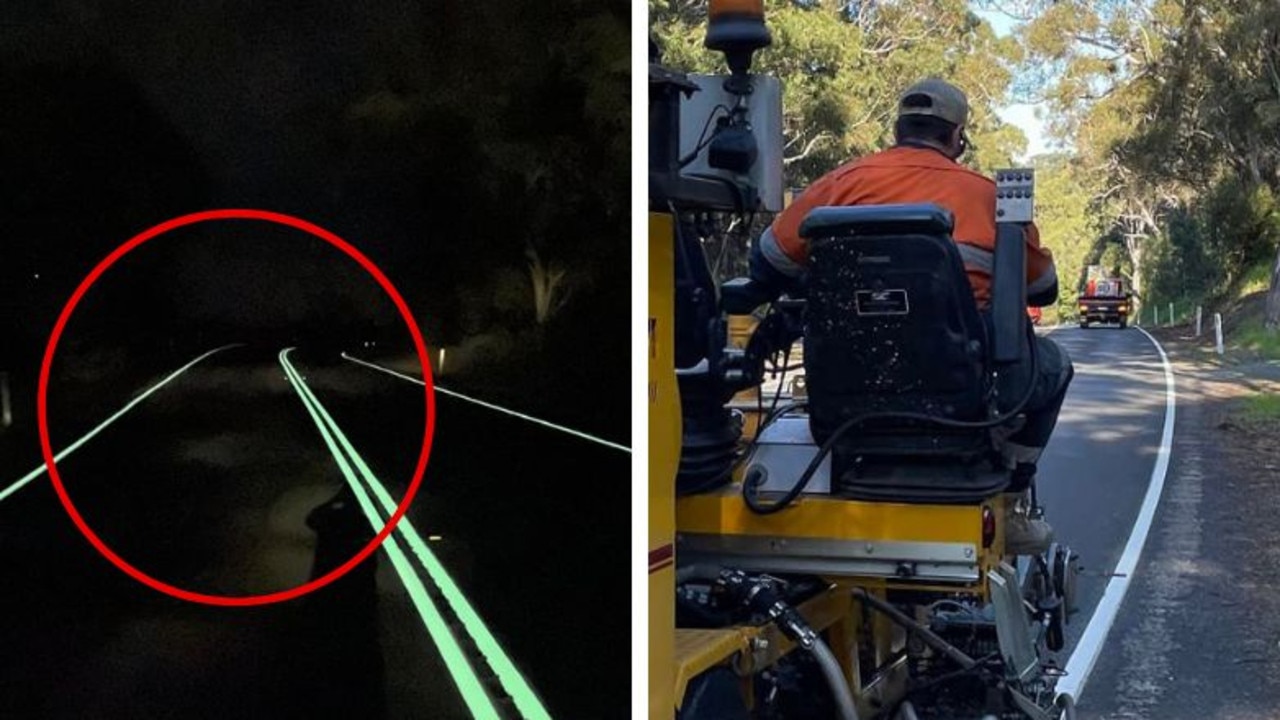 An regional Aussie company is leading the way with an ingenious way of making Australian roads safer — the introduction of glow-in-the-dark highway lines.
Gippsland company Tarmac Linemarking, in collaboration with OmniGrip and Vic Roads completed a "trial run" of new photoluminescent linemarkings in May and the results so far are stunning.
The 'smarter path' line markings use the natural science of photoluminescence – similar to the process used in glow-in-the-dark childrens' stickers, toys or watches.
When it's dark, the coating emits light it has absorbed and stored through the day, so that the lines and pavement markings can be better seen.
Tarmac Linemarking John Emanuelli said since the one kilometre trial on Metong Road in Victoria's south east, he had been swamped by businesses and councils looking to have their paths illuminated.
"There's been a lot of interest since the trial run, it's a great product," he told news.com.au.
Mr Emanuelli said there were plenty of other applications for the technology, not just roads.
He said the markings could prove useful in dark carparks, or boat ramps.
Regional Roads Victoria said the project was one of 70 trials apart of a $4 million government program installing new innovative treatments across regional Victoria.
Describing it as a "photo-luminescent delineation treatment" the government hoped it would provide drivers with a stronger visual signal to follow in low light.
"This treatment will make it easier for drivers to see the linemarkings or signage and provide stronger definition coming up to intersections and curves, giving drivers more time to react and preventing them from veering from their lane," it said.
"This will be particularly beneficial for people who are not familiar with driving through the area."
And now the glow-in-the-dark markings have gone viral with Facebook and online message board Reddit blowing up over photos of the line markings.
The photos have been shared almost 100,000 times on Facebook.
The Reddit post simply labelled: "Australian company introduces glow-in-the-dark highway paint technology" has more than 47,000 'up votes' with thousands flooding into the comments.
"This feels like Tron and I'm for it," one wrote.
"Does it wash off in the rain or wear out super quick? There must be a draw back, otherwise for sure this would have happened everywhere. Right?" another pondered.
"What's the glow length on this? If it's anything like every glow in the dark thing I've ever owned, you've got about an hour after sunset before this isn't even visible," another wrote.
Mr Emanuelli said while overcast days may affect the light's longevity, they usually last "most of the night" after sunny days.
Most importantly, the dangerous dusk period when animals make their way onto roadways, cops the majority of the light.
The Victorian government is also implementing LED-lit pavement near intersections and other more reflective road markings.
Originally published as New glow-in-the-dark Australian road feature goes viral